Profile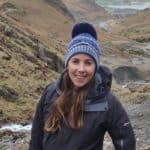 Alana McNulty
About Me:

I live in Manchester with my partner. I work in the nuclear industry, and my specialisms are radioactive waste and decommissioning, but I'm also part of the Royal Navy Reserves. In my spare time, I love hiking, going out for food and playing sport.

Read more

I'm from Blackburn originally and went to school and college in the area, before moving to Manchester for university…and I haven't left since!

I really enjoyed my undergraduate degree, but my favourite parts of chemistry were radiochemistry and environmental chemistry which is what led me to doing a PhD, and my current job.

Whilst I was an undergraduate student, I joined the University Royal Naval Unit (URNU) in Manchester and developed a love for the sea! We got to learn all about what the Navy does, how to navigate at sea, lead teams and loads more, but my favourite bit was putting it all into practice on a Navy ship. We sailed round the UK and Europe and got to experience life in the Navy. I loved it so much that when my degree ended, I joined the Royal Navy Reserves as a Training Officer so that I could teach others about the Navy too.

I love playing sport and watching it too (rugby union is my favourite to watch and basketball or rounders are my favourites to play).

My Work:

I work as a decommissioning consultant in the nuclear industry. This means I work on technical projects to help clean up radioactive waste and work out how to take apart nuclear reactor stations.

Read more

In the UK, we have lots of nuclear stations that have been running for a long time and will need to be shut down in the near future. There are also lots of older nuclear stations that have been shut down already and have entered into what we call 'decommissioning', which essentially means taking apart the power stations and making sure everything is disposed of safely.

Nuclear power stations are different to coal or gas power stations because they generate electricity using nuclear fuel by a process called fission. This process results in radioactive waste which can be dangerous and needs to be handled and disposed of carefully.

This is where my job comes in. I'm involved in lots of projects that look at the best ways we can handle and dispose of this waste. I'm also involved in work that looks at how we can start to dismantle different parts of nuclear power stations and the best ways of doing this.

My Typical Day:

I usually work from home, so I wake up around 7.30 am – 8 am, have breakfast, and then turn on my laptops. I have a few meetings during the day usually and will work on projects, and finish work between 4.30 pm – 5 pm.

Read more

I work on a wide range of projects for different companies so I have two laptops, which can actually be pretty annoying when you're travelling for work! I usually have a virtual meeting or two in the morning and then make sure I get a long lunch and try to get out for a walk or a run to stretch my legs after a long morning sat down!

In the afternoon, if I haven't got any meetings, I'll work on projects, which all revolve around tackling challenges in the nuclear industry.

My CV

Education:

High School – St Wilfrid's, Blackburn (2005-2010)

College – Runshaw College, Leyland (2010-2012). I took chemistry, biology, maths and English literature for AS-levels and dropped English for A-Level

University (Undergrad) – The University of Manchester (2012-2016). I studied chemistry on a 4-year, integrated masters course.

University (Post-grad) – The University of Manchester (2017-2021). I studied for a PhD in Radioactively Contaminated Land. That involved loads of experiments and research, and travel to Europe, America and Japan.

Qualifications:

Even though I'm a scientist now, I wasn't sure what I wanted to do when I picked my GCSEs, so I didn't pick separate sciences. My GCSEs were:

Maths
English literature
English language
Double award science (core and additional)
PE (Sport science)
French
German
Graphics
Religious Education

Work History:

2021 – now

Decommissioning Consultant

2017 – 2021

PhD in Nuclear Geochemistry
Also helped the lab group out for extra money
Helped teach undergraduate courses

2016 – 2017

Peer Support Graduate Intern – I worked for the University for a year when I graduated as a trainer – I got to train students to lead academic classes and mentor groups and put on a number of events for students. This was so much fun!

2012 – 2016

Whilst I was at uni, I also had a number of jobs to help me pay rent and buy food:

Tutor – I tutored secondary school-aged children in Sciences and Maths
Waitress
University Royal Naval Unit – This was part of the Royal Navy Reserves and I got to learn about the Navy and travel around Europe (and get paid!)

Employer:

My Interview

What did you want to be after you left school?

I had absolutely no idea!

Were you ever in trouble at school?

No, I always really liked school, but did get bored by it sometimes!

If you weren't doing this job, what would you choose instead?

An engineer in the Royal Navy

Who is your favourite singer or band?

I don't really have a favourite as it changes all the time, but I really love Lizzo at the moment.

What's your favourite food?

Any type of pasta

Tell us a joke.

What's a nuclear scientist's favourite food? Fission chips.
---
---