Profile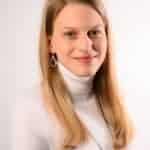 Ashley Hecklinger
About Me:

I live in Aberdeen, but I am originally from the United States of America. I am a marine biologist. I love travelling, animals, and my favourite food is tacos!

Read more

I grew up in Florida. My home was close to the ocean and I loved spending time at the beach collecting seashells. I even had a pet hermit crab! When I was 10 years old we moved to the state of Tennessee, and then the next year we moved to the state of Kentucky. I lived in Kentucky until I moved to Scotland 2 years ago.

Kentucky is far from the ocean, with lots of forests, rivers and rolling hills. I studied the fish in the rivers, and the salamanders in the forests, but I missed the ocean so I decided to become a marine biologist.

My Work:

My job as a marine biologist is to make sure that human activity in the ocean, such as building offshore wind farms, does not disturb the marine wildlife (fish, seabirds and dolphins) or the habitats that they live in. My day to day work is an office writing scientific reports.

Read more

Have you ever noticed how windy it is by the ocean? This windy environment offshore is perfect for building wind turbines which spin as the wind blows producing electricity. In the picture below you can see six wind turbines in the distance. When multiple wind turbines are placed together in the ocean we call this an offshore wind farm. The electricity produced from offshore wind farms is 'clean' because the turbines do not release harmful gasses like carbon dioxide into the atmosphere. We need to build more offshore wind farms to help prevent climate change.

What about the fish and dolphins that swim in the sea, and the seagulls that fly above? My job is to make sure that the marine wildlife are not going to be disturbed by the offshore wind farms. I write scientific reports on the amount and types of animals present, the types of habitats present, and whether or not the wind farm will disturb the marine wildlife. The government then reads these reports and decides whether the wind farm has permission to be built.

My Typical Day:

I wake up and have my favourite porridge, topped with peanut butter and berries. I go to work around 8:30 am. In the office I will open my computer and spend time looking into areas where offshore wind farms will be built. I will then talk to the experts in my team and we work together to write the reports. We will have lunch together in the kitchen, and grab coffee in the afternoons while we work. I go home after 5:00 pm.

Read more

During the day I will spend time reading about the animals and habitats in the area where the offshore wind farm will be built to gather information. For example, let's say I wanted to know about the marine mammals (like dolphins and whales) that might be disturbed. I would want to know things like:

What are the most common dolphins and whales in this area? I will read about where certain dolphins and whales live, known as the distribution.
How many dolphins and whales are in this specific area? This is called the density.

I then describe how the offshore wind farm might disturb the dolphins or whales, such as from the noise of building the wind turbines. I calculate how much noise will be produced, and how many dolphins or whales might be disturbed by that noise. Finally, I suggest ways to reduce the amount of dolphins and whales disturbed, like having someone there who is trained to watch for these animals and can alert the construction crew to stop.

My CV

Education:

As you may know from my 'about me' I'm originally from the USA, so my education is a bit different. Until I was 18 I attended a local High School where I completed my basic education and qualifying exams for university and I earned my High School Diploma. I then went on to a four-year university in my state (Kentucky), where I earned a Bachelor's Degree.

Finally, I moved to Scotland to attend the University of Aberdeen where I earned my Master of Science in Marine Conservation.

Qualifications:

High School Diploma

Bachelor of Science in Biology

Master of Science in Marine Conservation

Work History:

I recently graduated from university with my Master's degree, so my current job is actually my first 'real' career job! I had previously worked in a fast-food bakery chain as  a cashier during High School, and as a waitress in a small restaurant downtown when I was at my state university completing my Bachelor's. While these jobs had nothing to do with my career, I gained really valuable skills like teamwork, communication, conflict-resolution and leadership which continue to benefit me in my current job.

Current Job:

Graduate Environmental Consultant

Employer:

Xodus Group Limited (Xodus)

My Interview

How would you describe yourself in 3 words?

Marine wildlife conservationist

What did you want to be after you left school?

Anything that involved protecting wildlife

Were you ever in trouble at school?

No, never!

If you weren't doing this job, what would you choose instead?

A teacher

Who is your favourite singer or band?

The Wombats

What's your favourite food?

Tacos

If you had 3 wishes for yourself what would they be? - be honest!

Happiness, health and success

Tell us a joke.

How many tickles does it take for a squid to laugh? Ten tickles!
---
---