Profile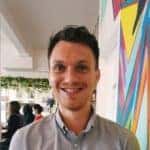 Andrew Houston
About Me:

I'm a researcher, with a PhD in forensic chemistry, living in Glasgow. I'm passionate about finding out about the causes of climate change. When I'm not working I love doing anything that's outside! My favourite hobbies are canoeing, hill walking and skiing.

Read more

I used to be a professional canoe slalom athlete, and after spending so much time on rivers and riverbanks I started to notice the natural world around us. As I started my researching career I wanted to positively change the world so I chose to work on climate change.

At the weekends I can be found outside doing some crazy adventures! This year I walked from Glasgow to Inverness, did a 23 hour walk, and even had my hair freeze when walking up a mountain!

My Work:

I have a PhD in forensic chemistry, and currently study methane in the atmosphere.
During my undergraduate degree I worked with the European Space Agency to explore the use of lasers in measuring nitrogen levels on Mars.
My PhD studies studied the affect of extreme heat (and fire) on pig bones.

Read more

I am a chemist, currently creating new methods for the measurement of methane in air, created by different things such as cows, mining, and bacteria, using a first of its kind chemistry instrument.
I enjoy using chemistry techniques to make the world a better place.

My Typical Day:

My days are all different. Some days I get to work in laboratories, some days I go to the university buildings for training and office work, and sometimes I work from home. A great part of being a researcher is that you get to plan your own workload and decide when to do it all! If you think of new ideas you can explore them, and as long as you can get people to pay for your projects you can do anything you can think off!

What I'd do with the prize money:

Have you every wanted to take part in your own murder mystery with your friends? Because that's what I would do with the prize money. I would go to local schools and show students exciting forensic science processes! You'd get to dust for fingerprints, fingerprint your friends, take their shoeprints, and work out who the murderer was.

My CV

Education:

1999 – 2006: St. Ninian's Episcopal Primary School.

2006 – 2012: Perth High School.

2012 – 2017: University of Strathclyde.

2017 – 2012: University of Dundee.

Qualifications:

National 5's (2010): English, Maths, Chemistry, Physics, Computing, French, History, and Craft & Design.

Highers (2011): Chemistry (A), Computing (A), Maths (B), Physics (B), English (C).

Advanced Highers (2012): Chemistry (A), Physics (A), Maths (B). Higher Biology (A).

BSc Hons Degree (2017): Chemistry (1st).

PhD (2021): Forensic Chemistry.

Work History:

2010 – 2018: Professional British Canoeing Athlete.

2011 – Present: Scottish Canoeing Performance and Development Coach.

2016 – 2016 – Undergraduate Research Consultant.

2017 – 2017: Undergraduate Researcher.

2017 – 2021: Doctoral Researcher.

Current Job:

2021 – Present: Postdoctoral Research Associate.

I am working to develop new methods in order to measure the amount of each type of methane in the atmosphere, and then to also show where this methane comes from.

Employer:

My Interview

How would you describe yourself in 3 words?

Adventure-loving Scientist.

What did you want to be after you left school?

Professional Canoeing Athlete.

Were you ever in trouble at school?

Yes, all the time!

If you weren't doing this job, what would you choose instead?

I would want to coach the British canoeing team.

Who is your favourite singer or band?

The 1975.

What's your favourite food?

Sushi.

Tell us a joke.

Why can you never trust an atom? Because they make up everything!
---
---