Profile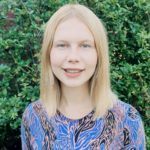 Lucy Jones
About Me:

I have recently moved to the Netherlands with my job and I'm living in a small town by a lake. I really enjoy exploring the local area on my bike. I also love going to concerts and catching up with friends. In my spare time I play hockey and try out new things to cook.

Read more

I was born in York and lived there until I was 18. I then moved to Durham to study chemistry at university. I have also lived in Yarm (near Middlesbrough) and Cambridge. I now work in the Netherlands, which is my first time living in a different country.

My Work:

In my job I look at ways to help protect plants from extreme weather conditions, such as drought. Caring for the environment is very important in my work and is an important thing we consider when designing new products.

Read more

I am a research scientist in a company that makes ingredients for many different products, like toothpaste, shampoo and even the Covid-19 vaccine.

I work in a part of the company that makes coatings for seeds. These help plants to grow stronger and healthier. Some of the plants I work with include carrots and tomatoes.

My Typical Day:

Every day is different! Some days I do experiments in the lab. Other days I write about what I learnt from my experiments. I spend a lot of time with other scientists talking about our work. I also lead the UK Gender Equality group in my company and I am passionate about Diversity and Inclusion.

Read more

Sometimes experiments don't work, so I spend time finding out why to try to make them work next time. I am always learning new things in my job – learning doesn't end when you leave school! As well as science, I use a lot of maths when looking at the results from my experiments and I also write reports on what I found.

What I'd do with the prize money:

I would use the money to make fun, interactive resources to help young people learn about climate change and how they can help look after our environment.

My CV

Education:

Fulford Secondary School – York
Fulford Sixth Form – York
University of Durham

Qualifications:

GCESs: Triple Science, Maths, Further Maths, English Language, English Literature, French, Geography, History, Applied Business, Religious Studies
A Levels: Biology, Chemistry, Maths (and AS Levels in Geography, Further Maths and General Studies)
University Degree: Integrated Master's in Chemistry, with a year in industry

Work History:

Sales Assistant at Timberland, York Designer Outlet (part time during Sixth Form)
Analytical Chemistry Intern at Illumina, Cambridge (for 3 months during summer break at university)
Chemistry Placement Student at Johnson Matthey, Teesside (for 1 year as part of my university course)
Analytical Chemist at Croda
Sustainability Specialist at Croda

Current Job:

Research Scientist at Croda

Employer:

My Interview

How would you describe yourself in 3 words?

Environment-loving chemist

What did you want to be after you left school?

An astronaut!

Were you ever in trouble at school?

Sometimes I talked too much...

Who is your favourite singer or band?

Sam Fender

What's your favourite food?

Cake!

If you had 3 wishes for yourself what would they be? - be honest!

To be happy, to see my friends a lot and to keep learning new things

Tell us a joke.

Sorry, all of the good chemistry jokes Argon!
---
---